Style Sheet: Joe.
Layout: Smooth Sailing.
Style: S2.
Sidebar: right.
Accounts: free and paid accounts.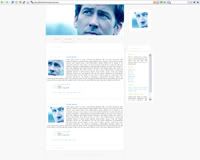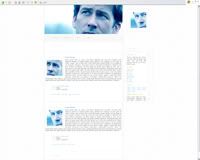 No background image: preview in FireFox
Background image: preview in Internet Explorer

Note: the sidebar will only scroll if your content overflows the length the box.

Download zip file (142Kb)


I am no longer answering questions about this layout.



------------------------------------------------------------------------------------

Set up:

01. Customize the style sheet.
Open the css file in a text editor like notepad.
Replace YourURL by the URL where you uploaded your pictures.

Please, feel free to customize the style sheet, but only the text and links (in the typography section) and the few other things marked /* OK to customize */. Do not alter anything regarding the main structure of the layout, such as sidebar or entry width: because a big part of the layout is based on pictures, if you change something, it will screw it all up. Also do not alter any of the images, except for the header of course... (header size: 500x200px). Feel free to change the lj user icon. The one used is this layout was made by famfamfam.com.

You can choose to have a pattern or a solid color as a background. I strongly advise you to keep the color as it is (#F8F8F8), but if you really want to change it, it will have to be a color very close for the layout to look nice. Idem for the pattern: feel free to change it, but it has to remain light.

Save.
Upload your stylesheet to a website allowing hotlinking.



02. Go to Manage Accounts > Customize Journal > Look and Feel

Layout and Language.
Select Smooth Sailing in the drop down menu. Save changes. important!



03. Go to Manage Accounts > Customize Journal > Custom Options

Presentation tab
» Header Journal Icon : Show User's icon in header
» Wrap Entry text under userinfo : yes
» Wrap Comment text under userinfo : yes

Save changes.

Text Entry tab
If you want to have the exact same look as in the previews for the date, time and subject entry, your date has to be short. Example:
» Format for Date and Time (Recent/Friends/Entry/Reply page) : %%mm%%|%%dd%%|%%yy%% - %%HH%%:%%min%%
» Format for Date and Time (Day page only) : %%mm%%|%%dd%%|%%yy%% - %%HH%%:%%min%%

If you do not want to have this format (06|12|23 - 22:45), you'll have to change the padding as indicated in the css. This is also where you change the text for the various links in the entry.

Save changes.

Menu tab
Set the text of your navigation links. Because the button is only 70px wide, the shorter the text, the better. For example:
» Text used to link to the 'Recent Entries' view : recent
» Text used to link to the 'User Information' view : info
» Text used to link to the 'Friends' view : flist
» Text used to link to the 'Memories' view : mem
etc...

Note that you can choose to remove the memories and website links in case your menu is too wide, or if you don't want them there. If you have a paid account, this can be done via layers.

Save changes.

Sidebar tab
» Sidebar Position : Right Side important!
» Profile Position : Hide (This is not necessary for the css to work, but it looks better without it as your default icon is already in the header)

Then you can choose whatever you want to appear in your sidebar, change the names, etc...

Save changes.

Custom Css tab
» Use layout's stylesheet(s) : No
» Use layout's stylesheet(s) when including custom external stylesheet : No
» Custom external stylesheet URL : type in the URL of your style sheet

Save changes.

That's it!

------------------------------------------------------------------------------------

Notes

Though many things can be done through the style sheet, there are a number of things which are not. Before asking a question, make sure you read through the various (and many) customizations offered via the customization wizard.

Leaving the navigation strip on will shift your layout to the left.
To prevent this go in Manage Accounts > Viewing options > 3. Navigation strip display options:
Uncheck both Always see the navigation strip when you view any journal or community and Always show the navigation strip to anyone who views your journal or community
Done. :)

------------------------------------------------------------------------------------

Useful links

»
s2smoothsailing - help community for Smooth Sailing.
» Breakdown of the Smooth Sailing stylesheet, by
carriep63.